Pendarren House is set in 16 acres of grounds on the side of Sugarloaf Mountain in the village of Llangenny. It lies just above the Afon Grwyne which is a tributary of the River Usk.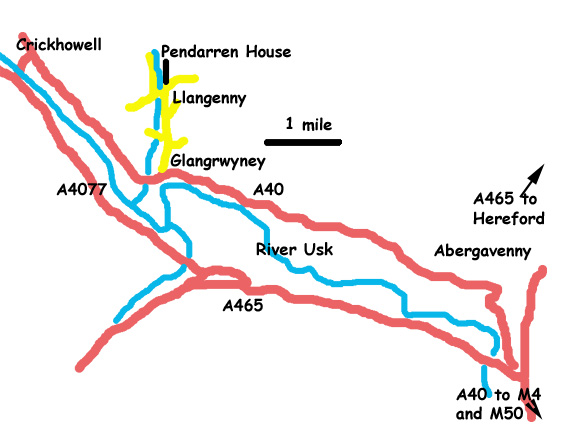 http://www.streetmap.co.uk/map.srf?X=324231&Y=218084&A=Y&Z=110
Getting to Pendarren
The nearby town of Abergavenny(8km/5 miles)  is on the A40 with dual carriageway links east to the M50,  south to the A449 for Newport and the M4, and south west on the A465 to Swansea (see map).
Abergavenny also has a bus station, and a train station with trains to Hereford and Newport (connections to Paddington).
Local taxis can be obtained at the bus and train stations to bring you to Pendarren House.
The road from Llangrwyney to Pendarren is a narrow road, and the only turning space for coaches is at Pendarren House.
Map – Coach route to Pendarren
The Brecon Beacons National Park
Pendarren House lies in the Brecon Beacons National Park, which was created in 1957 to protect the mountain landscape. It is predominently a rural mountainous landscape with scattered sheep farms, villages and a couple of small towns (Brecon and Hay on Wye). The Brecon Beacons include Pen y Fan, at 886m the highest mountain in southern Britain. The name Brecon Beacons dates back to a time when a chain of beacons on top of the mountains were lit as a sign of approaching enemy. The logo of the National Park depicts a flaming beacon.