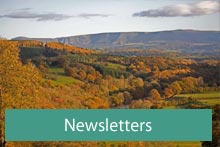 Welcome to Pendarren House Outdoor Education Centre
Pendarren House Outdoor Education Centre is a large country house set in the Brecon Beacons National Park. The 16 acre site lies in the Grwyne valley between Table Mountain and Sugarloaf Mountain with stunning views across the Usk valley.
Residential adventurous and environmental outdoor education courses
Pendarren House has been delivering high quality outdoor education courses to schools and other organisations  for over 40 years.  The personal development and environmental themed courses are delivered by qualified and experienced teachers of outdoor education in a friendly and homely setting.
Our customers range from key stage 2 to secondary, further education, colleges, scouts, DofE, businesses and other organisations.
Courses are designed in consultation with clients, for most courses there are core themes of personal and social development and increasing awareness of the environment.
Courses help develop attributes such as confidence, self esteem, responsibility and independence, raising an awareness of self and others to improve the ability of an individual to work as a member of a team and allowing each individual to develop towards their potential. To deliver these courses, Pendarren makes full use of its location and groups have the opportunity to explore and undertake challenges in the natural environment of the Brecon Beacons, which includes rock faces, caves, rivers, waterfalls, mountains, forests and the beaches and cliffs of the Gower. In addition to these natural resources the 16 acre site includes a climbing and abseil tower, high and low ropes courses, orienteering courses and many other on-site activities.
Bespoke courses can be arranged e.g. targeting specific curriculum areas, team building for staff in organisations, SEN courses.
Haringey schools have priority booking but any subsequent vacancies are available to other groups including term time, weekends and school holidays.
Each group has its own accommodation building and so Pendarren can have up to three groups in residence at one time. Larger groups (up to 80) may use two or three buildings and have exclusive use for the week. One of these buildings is a self-catering bungalow which is available to self programming groups.
Pendarren House is owned and maintained by Haringey Council and has been providing residential outdoor education courses since 1972.
Explore this site for more information about
The Pendarren Experience